Volunteering News May 2016

Welcome to the latest edition of Volunteering Matters!

In this Issue:
---
---
Its that time again... National Volunteering Week (16th-22nd May) happens each May celebrating the work of volunteers in Ireland.
Something that has shaped this country, and will continue to do so in the future, is volunteering. We are one of the best countries in the world at volunteering, ranked number one in Europe and tenth in the world in terms of per capita volunteer hours.
It is no exaggeration to say that Ireland as we know it couldn't exist without volunteers — imagine the empty sports stadiums, the unmanned helplines for vulnerable people, the empty youth clubs without volunteers.

To date in 2016 volunteers in Louth have clocked up 10,000 hours helping good causes around the county, so we just wanted to say a huge THANK YOU to each and every one of you for giving up your time to support the community.

National Volunteering week comntinues until Sunday, and its not too late to show your support to local causes. There are a few once off volunteering roles taking place over the weekend that need all hands on deck!
---
Urgent Volunteer Opportunities this weekend

Local childrens' football team Woodview Celtic FC are holding a bag pack tomorrow (21st May) in various locations across Dundalk. All help would be very much appreciated. Funds are being raised for the development of a new pitch for the team. Call Jeanine on 0861237610 if you can give 1 or 2 hours.

Cox's Demesne Community Volunteers are holding a clean up in Oakland Park from 1-4pm tomorrow (21st May). Volunteers are meeting at 12.45pm at Oakland Park - directly across from Dunnes Stores. Call Kayleigh on 0860431379 for more info

SOSAD are looking for Volunteers for bag packing on Friday and Saturday the 27th and 28th May in Tesco Extra. They need lots of help and support to ensure the future of SOSAD. If You are interested this opportunity apply here
---
An Tain March
The Táin March - Ireland's unique heritage, walking and living-history festival - is a fun, family event, held annually in Co Louth to celebrate the Táin Bo Cuailgne (The Cattle Raid of Cooley), Ireland's most famous saga, and the warrior champions Cuchulainn and Ferdia.
Queen Maeve will set out with her loyal warriors on the week long march from Roscommon to Omeath on the Cooley Peninsula, amassing more warriors on route, and a series of events will take place along the route.
On Saturday, the 28th of May the 2016 Tain March Festival lauches at the the Rathcroghan Vistor Centre in Tulsk, Co Roscommon and they need volunteer walkers
and welcomers to steward the march as it comes from Oriel Park to Dundalk town Square on Saturday 4th June from 1pm-2.30pm. View the details and apply for the role here.
---
Louth Agricultural Show 2016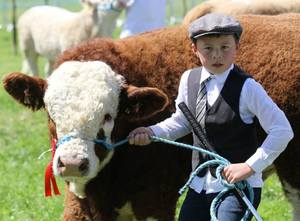 On the Sunday, 12th of June the Dundalk Show Society is running the 2016 County Louth Agricultiral Show at Bellurgan Park, Carlingford Road, Dundalk.

The Co. Louth Agricultural Show has a mission, "To be a Shop Window for what is produced locally, explaining the process from farm to fork, highlighting best agricultural practice and adherence to quality production". Shows like the Co. Louth Agricultural Show also help to preserve traditions handed down through generations which otherwise could be forgotten.
They are calling for volunteers to be Show Marshals. You can view the details and apply for the role here.
---
Garda Vetting updates
As of April 29th 2016, a new Act - The National Vetting Bureau (Children and Vulnerable Persons) Act 2012-2016 came into effect. This act makes it mandatory for people working with children or vulnerable adults to be vetted by the Garda Síochána National Vetting Bureau.
What this means for volunteers is that anyone undertaking regular volunteering roles that involve working with children or adults with physical or intellectual disabilities, mental ilness or older people will need to be vetted before they begin volunteering. Up to now, vetting has been carried out by voluntary groups as a matter of good practice.
---
Activity that reflects opportunity
Volunteer Opportunity
Place of Volunteering

Youth work

Sports/out door activities/Coaching

Sports/out door activities/Coaching

Fund raising

Fund raising

Fund raising

Fund raising

Fund raising

Fund raising

Fund raising

Fund raising

First aid

First aid

Events and stewarding

Events and stewarding

Events and stewarding

Events and stewarding

Events and stewarding

Events and stewarding

Driving/Accompanying

Counselling/Listening

Conservation/Gardening

Conservation/Gardening

Computers, Technology and the Internet

Computers, Technology and the Internet

Community/Economic Development

Committee/Board work/Management

Committee/Board work/Management

Committee/Board work/Management

Catering

Befriending/Mentoring

Arts (music/drama/crafts)

Arts (music/drama/crafts)

Arts (music/drama/crafts)

Arts (music/drama/crafts)

Architecture, Building, Construction

Advice, information and support

Administrative/Office work

Administrative/Office work

Drogheda, Scholes Lane (near West St)

Drogheda, Crosslanes

Collon Co. Louth / Athboy Co. Meath / Edgerworthstown Co. Longford / Nutts Corner Belfast

Drogheda Town

Drogheda

Drogheda, Thomas Street,

Monaghan

Ard Easmuinn, Dundalk, Co. Louth

Drogheda

Dundalk,

At various locations around Drogheda

Mell Parish Hall, Upper Mell, Drogheda, Louth.

Holy Family Center Ballsgrove Drogheda Redeemer Community Center Dundalk

Dundalk towm

Albion Rovers Football Club, Monasterboice, Drogheda, Co. Louth on 24th July, 2016

Drogheda, Co. Louth

Dunleer

Drogheda Port

Drogheda Port

Holy Family Creche Ballsgrove Redeemer Community Center Dundalk

Drogheda.

Carlingford

Dunleer

Holy Family Centre Ballsgrove Redeemer Community Centre Dundalk

Drogheda area - this role can be undertaken remotely, as it involved computer based work.

171 Moneymore,Drogheda, Co. Louth

Dunleer

Drogheda / home based in Louth

Drogheda

Ardee. Irish wheelchair Association Day Resource and Outreach Centre, Ardee, John St Business Park, Ardee Co Louth

Holy Family Centre, Ballsgrove, Redeemer Community Centre Dundalk

Carlingford

Dunleer

Dunleer

Carlingford

Dundalk, Aspen House, 76 Seatown, Dundalk, Co. Louth

Duleek, Co Meath or from own home

Drogheda Co. Louth